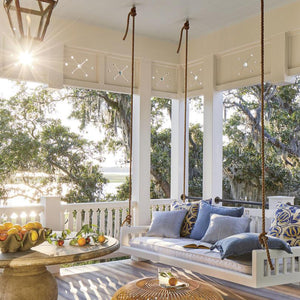 The Original Charleston Bedswing
Sale price Price $2,425.00 Regular price
Our best-selling Original Charleston Bedswing is loved by customers seeking a cozy hanging bed swing retreat for their porch or living area - a place to relax and enjoy the comfort of your home. 
The Original Charleston Bedswing measures 83"L x 43"W x 24"H.
To best complement your Original Charleston Bedswing, we recommend a cushion set that includes a bottom cushion, a back cushion, and an option of side cushions, bolsters, or throw pillows. You may add your cushion set as a separate item here. 
You also have the option of a ProManila rope or chain hanging package for up to a 12 foot ceiling height. Your chain or rope will be cut based on the ceiling measurement you provide (minus 2 feet of the ceiling height for chain / plus 4 feet of the ceiling height for rope); please measure twice. If your ceiling is over 12 feet, please contact us for assistance. 
The ProManila rope is a synthetic alternative to natural fiber manila rope; it performs better than a natural fiber in outdoor elements but is still a less durable hanging option than chain. The rope may stretch over time, making it necessary to adjust the height of your bedswing. And if used in a humid environment, the rope can be susceptible to fade, mildew and rot. Overall, depending on the climate, the rope may need to be replaced from time to time.
Our bedswings are made to order. Estimated shipment dates include a longer lead time - typically eight to ten weeks. We make every effort to deliver your order as soon as possible, though, so please be prepared to receive your item(s) immediately following placing the order. If you cannot accept delivery before a certain date, please notify us in advance. Due to space constraints, we do not hold shipments once your item is ready.