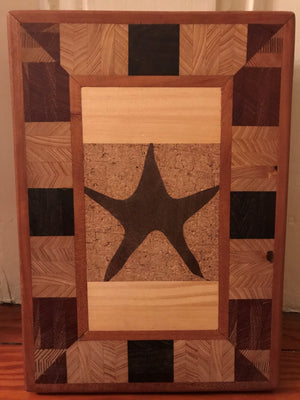 Charleston Sea Star Cutting Board
Sale price Price $150.00 Regular price
**FREE SHIPPING WITH CODE SEASTAR (automatically applied at checkout)**
The Sea Star Board was made with care by Bill, our friend in the Woodshop, drawing inspiration from walks on the beach at Sullivan's Island. The Star is crafted from walnut and surrounded by cork with cypress above and below and framed with cherry and walnut squares. Dual-sided and finished with non-toxic mineral-based chopping block oil.
Dimensions: 10.5" length by 7.5" width by 3/4 " thick. 
About the artist: A dentist by day, after hours Bill turns his skill to artistry in the creation of unique wooden products. Like Preston, Bill made furniture for years as a hobby and had a shop full of scrap wood. Tossing the scraps was unthinkable, so he started cutting and gluing them together, thereby creating his first board. Today, each board is the product of his careful craftsmanship made in part using his signature wood, magnolia. Some customers put their board to active use, as kitchen cutting boards or Bedswing trays, while others stage them as a work of art. Bill is happy to know his boards are enjoyed. Woodworking joins his lists of passions, including golfing, shrimping, and family - perhaps in that order. (as written by his wife).