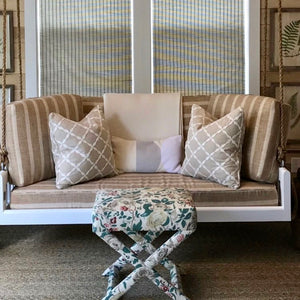 COM (Customer's Own Material) Bedswing Seat Cushion
Sale price Price $675.00 Regular price
Our bedswing seat cushion cover has a banded edge with double cording and is zippered for easy cleaning.  The seat cushion insert is a reticulated fiber. The fiber has open pores that allow water and air to flow easily through them. They are comfortable yet firm, made to retain form with use over the years. 
Please reference our FAQs page for suggested cushion care and cleaning details -- these may not apply for COM fabric, depending on your fabric selection, so please refer to the manufacturer guidelines. Proper care and cleaning of your cushions is of utmost importance to ensure high performance through the years.
Once you select your cushion package size, you will have the choice to add tufts to your seat cushion. Our tufted seat cushion has a 3" thick insert and the cover is not removable. Each tuft is finished with a fabric covered button. 
Questions? Contact us here. 
Seat Cushion sizing is as follows:
Original Bedswing Seat Cushion: 78.25" x 39" x 5"
Mini Bedswing Seat Cushion:  67.25" x 32" x 5"
Required fabric yardage (may vary depending on repeat):
Original Bedswing Seat Cushion: 6 yards

Mini Bedswing Seat Cushion: 5 yards
Our offerings are made to order. Estimated shipment dates include a longer lead time - typically eight to ten weeks (unless your selected fabric is on backorder). We make every effort to deliver your order as soon as possible, though, so please be prepared to receive your item(s) immediately following placing the order. If you cannot accept delivery before a certain date, please notify us in advance. Due to space constraints, we do not hold shipments once your item is ready.