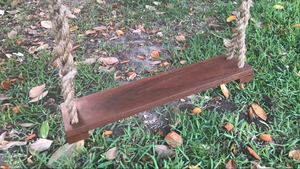 Original Charleston Rope Swing
Sale price Price $175.00 Regular price
Simple yet beautiful, our Original Charleston Rope Swing is a timeless addition to your backyard and the perfect housewarming gift!
The swing is handmade of Ipe (also known as Brazilian Walnut). The seat measures 26.5" long by 5.25" wide by 1" thick. The rope is tan ProManila at 3/4" diameter, spliced and cut at 25 feet long for a hanging height of 20 feet or less. Longer rope is available at $25 per 10 feet higher. The swing is finished with Ipe oil, which protects and conditions the wood while maintaining its natural beauty. As with all wood furniture, maintenance and care is required.
Free local delivery by the maker (Joe)! Contact us to bypass the shipment fee. 
Trade discount does not apply to this item.
WARNING & DISCLAIMER
With this purchase, you accept full and unconditional responsibility for proper installation and use of this swing. Your swing will require proper installation and maintenance. Original Charleston Bedswing accepts no responsibility for the hanging, use, safety, or maintenance of your swing. It is your responsibility to inspect the entire swing before each use, including the rope, which may deteriorate and weaken over time in the outdoor elements.