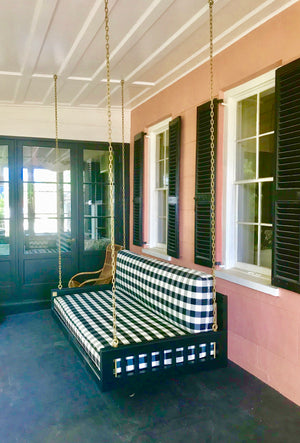 COM (Customer's Own Material) Bedswing Back Cushion
Sale price Price $475.00 Regular price
Our bedswing back cushion has single cording and is zippered for easy cleaning. For the back cushion insert, we offer two options: (1) A reticulated fiber wrapped in a poly batting, for enhanced comfort. These inserts are comfortable yet firm, made to retain form with use over the years. Or (2) We alternately offer outdoor pillow fill for the back cushion, which gives a more relaxed look and may require fluffing.
Please reference our FAQs page for suggested cushion care and cleaning details -- these may not apply for COM fabric, depending on your fabric selection, so please refer to the manufacturer guidelines. Proper care and cleaning of your cushions is of utmost importance to ensure high performance through the years.
Our bedswing back cushion measures as follows: 

Original Bedswing Back Cushion (78.25" x 19.5" x 6") 

Mini Bedswing Back Cushion (67.25" x 19.5" x 5")
Questions? Contact us here. 
Please note that because this item is made to order, its estimated delivery date includes a longer lead time - typically four to six weeks.